It's a familiar scene: you're at a pizzeria and behind the counter you see disks of dough flying high into the air. Whether you've witnessed it in person or seen it in the movies,
it's a familiar sight -- and one that makes us pretty hungry.
While this display seems like it's just for entertainment, there's more to this show than meets the eye. Tossing dough in the air actually serves a purpose.
Tossing pizza dough in the air also helps retain moisture. Some pizza makers use a press or dough sheeter to flatten out and spread the stuff out, but these devices lead to dry, crunchy crust. Spinning flattened circles in the air not only avoids this dilemma, but the technique actually helps ensure the correct amount of moisture.The airflow over the dough's surface dries it out just enough to make it less sticky and easier to handle. And the perfect amount of airflow makes for a perfectly crispy crust.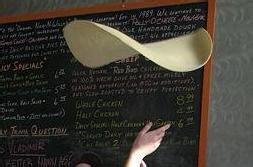 Our Company Main Products: Outdoor Wood Fired Pizza Oven / Outdoor Wood Burning Pizza Oven / Gas Pizza Oven / Ceramic Pizza Oven / Clay Pizza Oven / Wood Fired Barbeque Grill / Gas Barbeque Grill / Portable BBQ Grill / Biametal Thermometer / Grill Thermometer / Milk Thermometer / Coffee Thermometer

Candy will try my best to give you our best service!!!


Foshan Kings Union International co.,ltd
Mail:
sales5@gdqiqiang.com
Tel:
00
86-757-8
5796158

Phone:86-
18925981220
Skype:
qiqiang02